Tata Pravesh, a new stalwart brand in Tata Steel's portfolio, provides a comprehensive range of beautiful and stunning home solutions, ranging from steel doors to windows with ventilators. Each item in this collection combines the strength of steel with the elegance of wood. The cutting-edge items are long-lasting as well as provide complete home protection, allowing you to keep your loved ones safe.
Combining the strength of steel and the beauty of wood, Tata Pravesh doors and windows offer complete peace of mind to its users in terms of price, quality, durability and security. The doors are manufactured from high grade steel using state-of-the-art technology to ensure supreme resistance to fire and other hazards commonly experienced in the case of wooden doors. Factory-engineered to perfection, every product is uniform in quality and finish; the texture resembles that of real wood. Free accessories, delivery (T&C apply), installation and 5 years warranty (T&C apply) further add to the popularity of Tata Pravesh doors. It offers a one stop solution for all your wall opening needs.
With the strength of steel, you can keep your loved ones safe.
Do wooden doors have these benefits?
Strength
Tata Pravesh doors are 4 times more secure than wooden doors*
Value for Money
Superior products at reasonable prices
Fire-resistant
Since Tata Pravesh doors are made of steel they automatically resist fire
Environment Friendly
Every 2 Tata Pravesh doors save a tree.
Weather-proof
High quality of steel lasts long and endures every weather condition
Termite-resistant
Tata Pravesh doors are made of steel which is naturally resistant to termites
High Quality Finish
The finish of Tata Pravesh doors is 12 times superior to wooden doors*
35 designs to choose from
Wide array of styles that enhances every modern home decor
Maintenance-free
Tata Pravesh doors are7 times more resistant to warpage than wooden doors*
Longevity
Tata Pravesh doors have 5 years warranty on paint and polish on wooden doors* fade away in 2-3 years
Pearl Doors
(Embossed Wood finish)
Available in 5 designs and 4 wood finish shades
Suitable for external use with 46mm thick shutter, 2 strong tower bolts, lever lock system and a peep hole to ensure complete security
Optional secondary lock offered for added security
Also available with additional fly mesh shutter to keep insects at bay
Fly Mesh Doors
The Pearl and Coral range of doors also come with a Fly Mesh option in double rebate profile.
The mesh is made of SS304 grade that keeps mosquitoes and flies at bay while allowing fresh breeze to flow inside the house.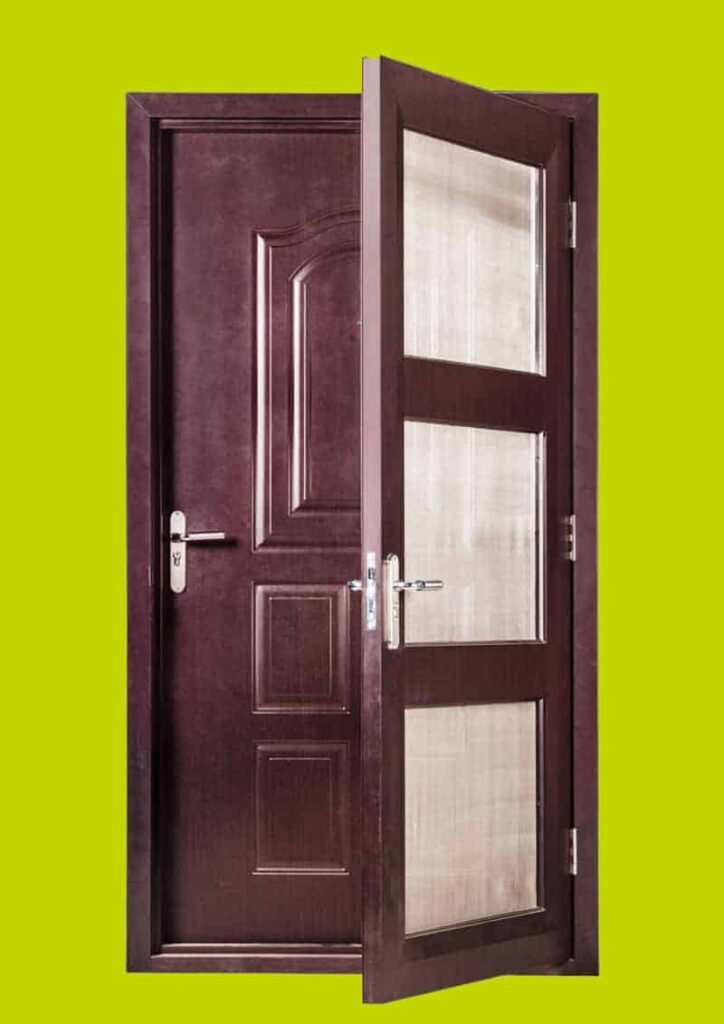 Reflections – Natura Series
(Unique Wood Finish)
The Natura series brings home the rich beauty of the finest wood finishes, in an amalgamation of designs. These are complemented with premium and artistic accessories so that each door stands out as a masterpiece.
Double Leaf Doors
Offered as external doors.
Available in Embossed and Plain Wood finish.
Also offered in single mesh shutter to keep insects at bay without obstructing the breeze.
Available in equal door shutters only.
Fire Rated Doors
A fire door is one of the most important safety products on any premise. It prevents fire and smoke to spread across the building and contains fire to particular compartment of the building. Fire doors are used near lift lobby, staircase, corridors and other areas which can be prone to fire hazards. Fire doors have important role in saving lives and are must for fire NOC for any residential or commercial building.